"You're not my son. Banana bread is delicious." -Malice
Generally
Malice is a demonTwilight Sparklesummoned usingThe Rite Of Blood and Bone to defeat Abbadon. He put twilight on a game show and took her teeth. He currently resides in twilight sparkle.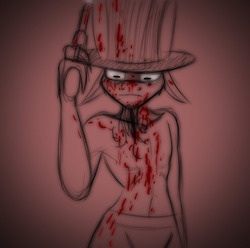 Personality
Malice is shown to be a a very sadistic and funny being who loves the tourcher of others and still gets joy out of normal funny things.
Trivia
He speaks Japanese.
Ad blocker interference detected!
Wikia is a free-to-use site that makes money from advertising. We have a modified experience for viewers using ad blockers

Wikia is not accessible if you've made further modifications. Remove the custom ad blocker rule(s) and the page will load as expected.